Reaching the Whole Child 
Acts4Youth is off to a great start this year because of your commitment to help us lead the next generation to loving God, loving others and thriving in the classroom.
Here's a glimpse of what has been happening during the first month of school in both our in-school and after-school programs:
FOUNDATIONS – Nurturing essential life skills during school
During September at both Cardinal Shehan and Walter P. Carter schools where we are working with a total of 400 students in 4th through 8th grades, we covered the topic of the brain and how the different sections serve different functions that help manage our emotions. It is all to reaffirm the power we have in disciplining ourselves in the virtues that we set as the foundation of the class: self control, perseverance & endurance.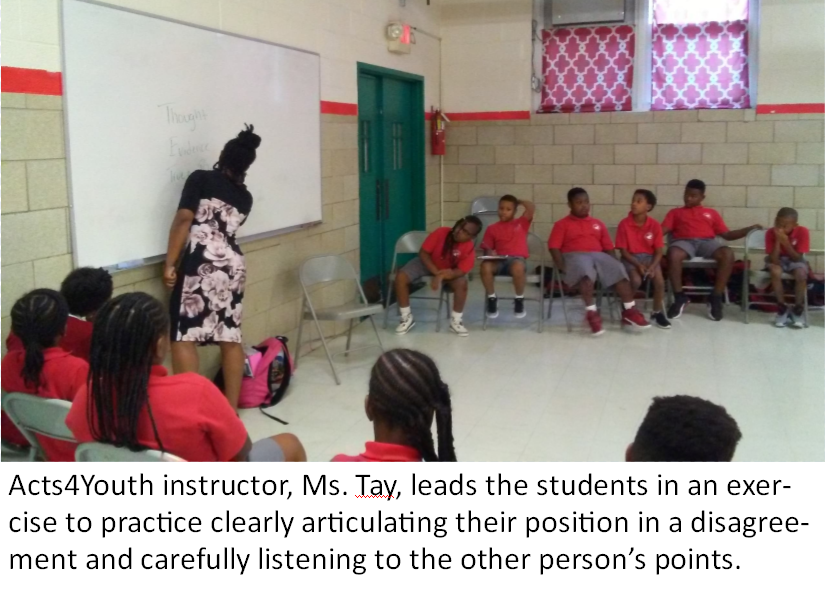 Tay Lee, our newest staff member and primary teacher of the Foundations classes taught in school, is delighted at the prospect of engaging the students with a spiritual foundation.  Prior to joining Acts4Youth, Tay was a teacher, and she is currently completing her masters in social work. "I appreciate that Acts4Youth seeks to reach the whole child and not the half child…. Academics is half the battle…their emotional development is what is going to carry them everywhere and that is deeper than math and reading…" Being able to resolve conflict and work through emotions and directing the adolescent mind towards it is vital to the human experience.
A fourth grader in Ms. Tay's class at Cardinal Shehan, had this to say after her first month of Acts4Youth classes: "It has taught me how to be nice and respect others, even if I do not agree."
Ms.Davis, the dean of students at Walter P. Carter, views Acts4Youth as a resource for mentorship that many students otherwise would not have. "I have noticed a change and a difference in students' behaviors…and they are more attentive in the classroom."
SHINE & GAME PLAN – after-school spiritually based programs
Shine and Game Plan for middle schoolers allow us to fully explain out our faith and reiterate the values expressed in the classroom. Some exciting changes are underway. We are adding three new components to Shine and Game Plan:
1. Saturday retreats that include devotions, service project, and fun trip.
2. Monthly breakfasts for students and significant adults in their lives with messages geared toward celebrating godly manhood and womanhood.
3. Weekly 3D group athletic activities based on Fellowship of Christian Athletes' template, including pre-activity devotionals.
In addition, we will continue our weekly afterschool program with lessons celebrating becoming a Godly manhood and womanhood that have been the bedrock of Acts4Youth, one-on-one meetings with students during lunches, and summer retreats.
After the first Shine meeting, Fatima, an 8th grader at Walter P. Carter, said, "I like [Acts4Youth] because I feel safe, like I have someone to talk to."  She went on to talk about how God's perception of her life mattered to her now because of Acts4Youth and how it impacts her thoughts and actions. "[Acts4Youth] makes me think about how others feel."
PATHWAYS – path to adulthood for high schoolers
In addition to our Saturday meetings and paid summer internship for high schoolers, we are excited for two new aspects to Pathways:
1. Every summer internship participant in 11th and 12th grades will be paired with a volunteer adult mentor. These mentors will help students fulfill their post-secondary plan, such as visiting colleges or trade schools, SAT prep, learning about careers, etc.
2. Our Saturday program will continue the social, emotional, spiritual training through the lens of developing a leadership attitude, including lessons about what it means to be a leader, developing your own leadership style, etc.  Teens will create leadership goals for themselves and be held accountable for putting their goals into action by staff and volunteer mentors. They'll also be examining the life of Christ to help them grow in their faith and leadership from a distinct Christian perspective.
We are so grateful for the privilege you have given us. You have granted us with another year to see that the future generations of Baltimore kids are given the tools for success and the opportunity to know God.
Friday, November 9th, 6 to 8 pm
Cardinal Shehan School, 5407 Loch Raven Blvd, Baltimore
Prizes * food truck * dessert and drink with ticket.
More info. and purchase tickets here.