Acts4Youth News: Update on Summer Programs
Update on Summer Programs You Helped Support!
Summer Internship
"If you fail to plan, you are planning to fail." Ben Franklin
After a brainstorming session, the interns were full of ideas of steps to take NOW on the path to their career goals: Kobi, who wants to be a chef, said he could start baking cookies and selling them at school; Taiwan, who is into music, could sell beats online; Xavier, who wants to be a mechanic, could watch YouTube videos and build and take apart model cars to help him learn all the parts. The enthusiasm in the room was contagious.
Each intern's ideas will become part of his post high school plan, which is the culmination of the six week internship. The boys will present their plans on August 8th and then be paired with a mentor during their 11th and 12th grade years to help them enact their plans.
During an early lesson, one group of interns was told to draw a picture of a playground in front of a school. The other group was just told to draw a picture. The playground group got right to work. The other group started over several times and finally drew a picture of a scene from the Fortnite video game. Daniel declared the playground group the winner. "What that's not fair!" argued the losing group.
Their justified complaints led to a discussion about the importance of knowing where you want to go in order to make an effective plan.
Daniel, said, "You don't have to have it all figured out, but pick an initial direction. Even if your goals change, this is about cultivating the ability to take steps to reach a life goal. Many people talk for years about what they want to do, but never do anything about it. You are capable of more than that."
During the internship, in addition to preparing their plans, they visited colleges, explored careers, and participated in spiritual lessons and community service.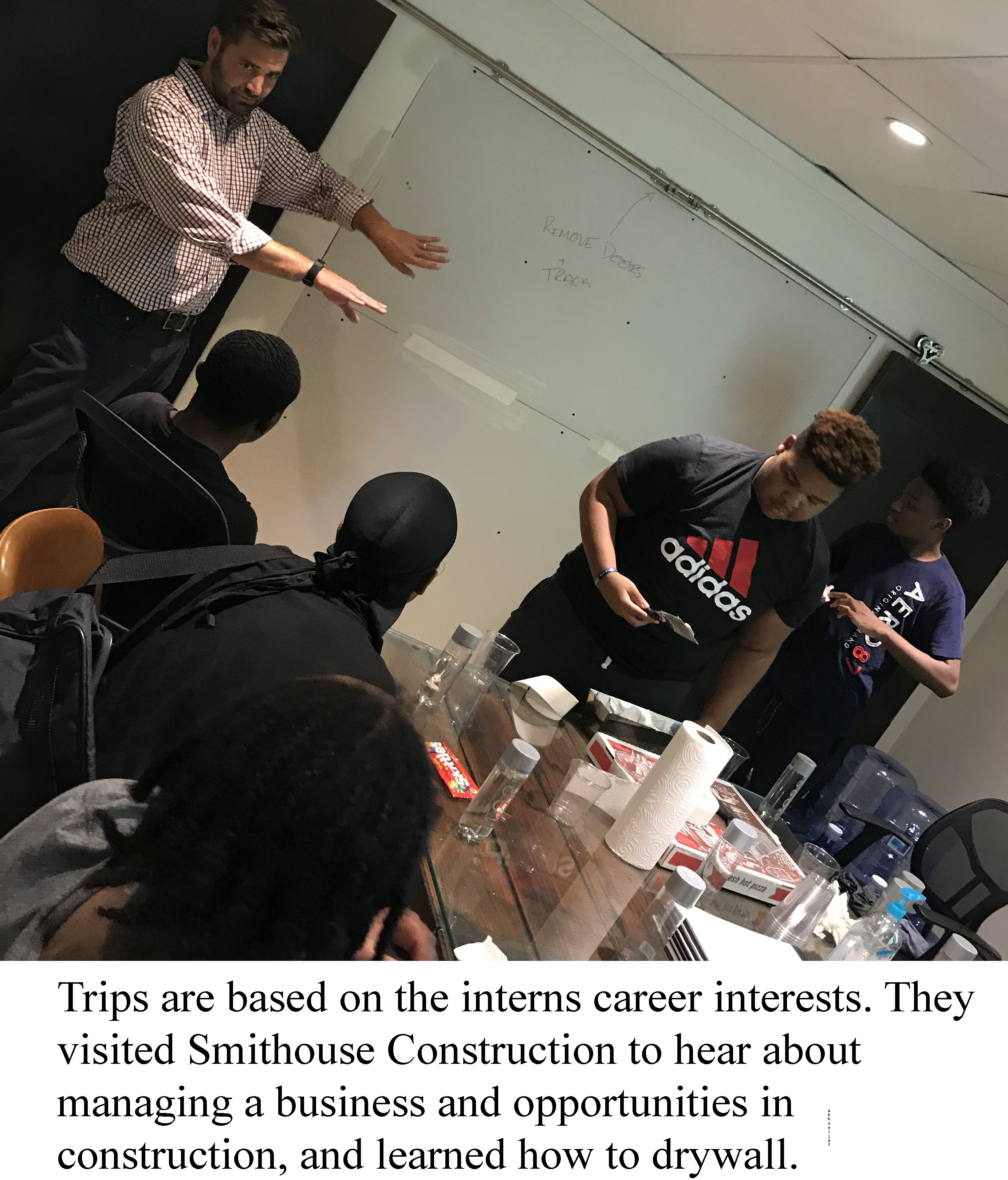 Summer Retreat
Even when kids are on a spiritual retreat in a beautiful wooded setting, the challenges of middle school don't go away; however, being in such close quarters over three days can offer an excellent opportunity to put into practice lessons learned during the school year.
At the beginning of the retreat, some of the girls were being "catty" and another group was creating drama by pretending everyone was against them, although they denied it when called out by the leader, Lasandra.
In response, Lasandra grouped the students on the bleachers by their cliques. She asked them to think about what they've learned about forgiveness and caring about one another. She assigned each girl to move to sit with a girl from a different clique. The girls were told to share a secret sin with their partner and then pray for each other.
As they shared their sins, several girls started crying. They had shared similar sins and it brought relief to know that they weren't alone.
When asked why the girls were willing to share these secrets with non-close friends, Lasandra said, "After three years in the program, they each have their own relationships with God. He pricks at their hearts. He reminds them that they need to make things right. After this exercise, they said things like, 'Let me make sure we include that other girl next time' or 'Let me hold my friends accountable for including others.'"
BINGO NIGHT FUNdraiser!
We're going retro and hosting a BINGO night. Mark your calendars now and look for more info. in the near future!
When: Friday, November 9th, 6 to 8 pm
Where: Cardinal Shehan School, 5407 Loch Raven Blvd, Baltimore
What: Prizes, guest callers, fun interactive evening! Plan to invite friends, family, and coworkers.
Goals: Introduce more people to Acts4Youth and provide an opportunity for supporters to meet kids and their families in a fun setting!
Tickets: $15 per person. $5 for kids. Link to purchase tickets posted soon.
Volunteers Needed: We need your help NOW to plan the event. If you'd like to help select and package prizes or serve on Nov. 9th, or help in any other way, please email Lesley Simmons at lsimmons@acts4youth.org.